March 25, 2015 12:05 am
Leave your thoughts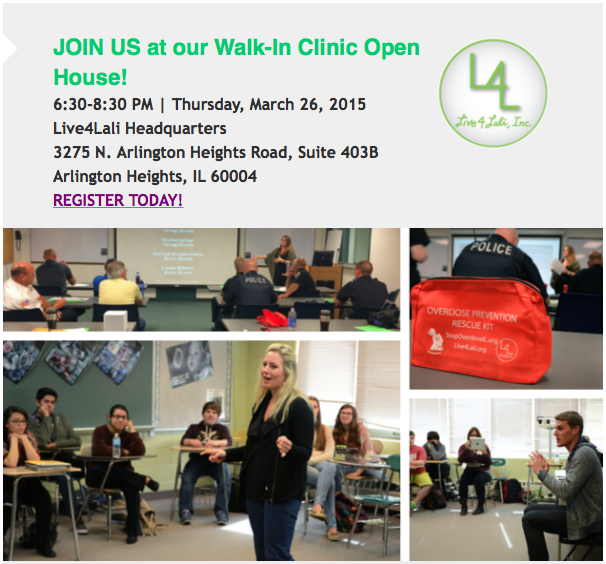 COME AND CHECK OUT SUBURBAN CHICAGO'S NEW DIRECT ACCESS POINT FOR NALOXONE TRAININGS, EDUCATION, SUPPORT AND TREATMENT NAVIGATION. 
Substance-related hospital admissions and overdose fatalities across Chicago's communities are at an all time high. The CDC reports that 120 people die from accidental drug overdose every day in the U.S. A key factor in the spread of this epidemic is the lack of access to lifesaving skills like Naloxone administration, substance use disorder treatment and mental health care, and education opportunities for youth, adults and professionals. That's where we come in. Please join us for the launch of this important community health intervention. Your awareness of our services can save lives. 
Hours: 
Walk-In Clinic Schedule Beginning March 30: 
Mondays from 5:30 – 9:30 PM 
Wednesdays from 5:30 – 9:30 PM 
Saturdays from 10:30 – 3:00 PM 
Location: 
We are located in Arlington Heights just south of Dundee Road across the street from the Public Storage facility at the "Pediatric Health Care Associates" building. Walk around the right side of the building to suite 403B.
Categorised in: Uncategorized
This post was written by live4lali