Professional and group harm reduction/NARCAN® training can take place in person or virtually. Supplies can be ordered and delivered to you directly.

OEND training is provided free of charge in our service territories

 
Reach out toStaff Coordinator, Lesile Flores  to access any of the services mentioned above at (844)LV4-LALI (584-5254) x803 or [email protected]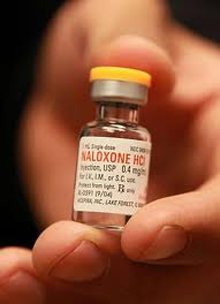 What is Naloxone/NARCAN®? 
Naloxone is an easy-to-use, lifesaving antidote to overdose from opioids including heroin, fentanyl, prescription pain medications like Vicodin and oxycodone, and medically assisted treatment options like methadone and buprenorphine. Used in hospitals for decades, the medication has no abuse potential, costs as little as one dollar for a lifesaving dose and can be administered with basic training. Please visit SAMHSA.gov for more info.
Who can get trained to administer Naloxone?
According to Illinois' Overdose Prevention Act, any layperson can get trained. This will allow them to possess and administer Naloxone to a person having an overdose. This also allows us to train individuals who can then go on to train other individuals (this is called the "train the trainer" model).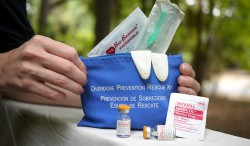 How does one get Naloxone?
From us! Our skillful Naloxone educators provide FREE training for community members at our Recovery Community Organization (RCO) and during our mobile outreach hours. Training is held on a first-come-first-served basis. All trainees leave with a free Naloxone kit and an overdose prevention educational packet. We also provide private learning experiences for groups, businesses, and organizations. Training for professional audiences are not free of charge and can be arranged through our Staff Coordinator, Lesile Flores at [email protected]
What will you learn about/take away from each training?
Details of the 911 Good Samaritan Law and Naloxone Act
Signs and symptoms of opioid use, misuse, and addiction
Effects of opioids on the brain and body
How to recognize when someone is overdosing on opioids
How to reverse an opioid overdose
The support and resources available for individuals and their loved ones.
Private training and training-of-trainers sessions for organizations, businesses, and nonprofits:
We offer private comprehensive and customized training for local treatment facilities, police departments, businesses, school staff, legislators, and beyond. Our trainings last approximately two hours with a thirty-minute set-up time. Donations are greatly appreciated. We offer reduced rates for nonprofit organizations. To schedule, please reach out to Laura Fry at Laura@Live4Lali.org. Trainings can take place virtually or in person.
To get started on the development of your training course, please fill out the following form and we will contact you: