September 26, 2017 3:22 pm
Leave your thoughts
FOR IMMEDIATE RELEASE
Contact: Chelsea Laliberte
Phone: 844.584.5254 x802
Email: [email protected]
September 26, 2017
LIVE4LALI AND TASC PARTNER TO OFFER WEEKLY RECOVERY NIGHTS FOR CHICAGO LOCALS AFFECTED BY ADDICTION
(Chicago, IL) – Motivated by the devastating impacts of the growing addiction and overdose epidemic, Live4Lali will provide recovery education, support, and harm-reduction services in Chicago every Wednesday night beginning September 27.
Live4Lali has teamed up with TASC (Treatment Alternatives for Safe Communities) to offer these weekly services at TASC's office at 700 S. Clinton Street.
Last year, a total of 1,091 people in Cook County died, at least in part because of an opioid-related overdose, which is up from 649 in 2015. According to Roosevelt University's Illinois Consortium on Drug Policy, the Chicago Metropolitan Area ranks highest for both emergency department mentions for heroin and number of individuals who were arrested and tested positive for heroin.
"Stigma surrounding substance use and overdose has fueled this epidemic. Stigma keeps people who struggle with substance use disorders and their families ashamed, silenced, and unsafe. By offering interventions such as relevant and accurate information, coping skills, the overdose antidote, naloxone, and linkages to care, we have seen families and communities heal and thrive," said Live4Lali's Cofounder and Executive Director, Chelsea Laliberte.
Live4Lali's Recovery Night Wednesdays will include the following free programming to support individuals, friends, and families affected by addiction:
6:00 – 7:15 PM – SMART Recovery (Self-Management and Recovery Training), an evidence-based peer-to-peer support group based on Cognitive Behavioral Therapy techniques for individuals seeking or in recovery from addictive behaviors;
7:15 – 7:45 PM – Overdose prevention and response training via the use of the drug, naloxone or Narcan®, which is the antidote to opioid overdose, which will be provided along with the training free of charge;
7:45 – 9:00 PM – SMART Recovery Friends & Family, an evidence-based peer-to-peer support group based off of the SMART Recovery modality specifically for family and friends of someone struggling with addictive behaviors.
"We welcome Live4Lali's recovery support and education services at our Clinton Street location," said TASC President Pam Rodriguez. "We connect our clients to a wide range of evidence-based recovery services, and the Recovery Night Wednesdays will offer valuable, added options for our clients, as well as for friends and family members deeply affected by addiction."
For information about recovery nights, visit Live4Lali.org/Chicago-chapter, call 844.LV4.LALI x810, or email [email protected].
About Live4Lali:
Buffalo Grove, Illinois resident Alex "Lali" Laliberte died of a polysubstance overdose in 2008. His sister Chelsea and their parents, Jody Daitchman and Gary Laliberte, established Live4Lali (501c3) so that other families might not suffer the devastation of their loss. Live4Lali's mission is to prevent and raise awareness of substance use among individuals, families, and communities, and minimize the overall health, legal and social harms associated with substance use. Live4Lali has helped pass groundbreaking state and federal legislation and offers direct, on-the-ground education, support and harm reduction services to those directly impacted by addiction or overdose. Visit Live4Lali at Live4Lali.org, on its social media platforms, or for more information call 844.LV4.LALI.
About TASC, Inc. (Treatment Alternatives for Safe Communities):
TASC, Inc. works in partnership with justice systems, child welfare programs, and community-based organizations to build connections to recovery for people with substance use and mental health issues. By providing case management, outpatient treatment, and other direct services for approximately 20,000 Illinoisans annually, as well as consultation and training services nationally, TASC helps to increase health, reduce recidivism, and support recovery.
###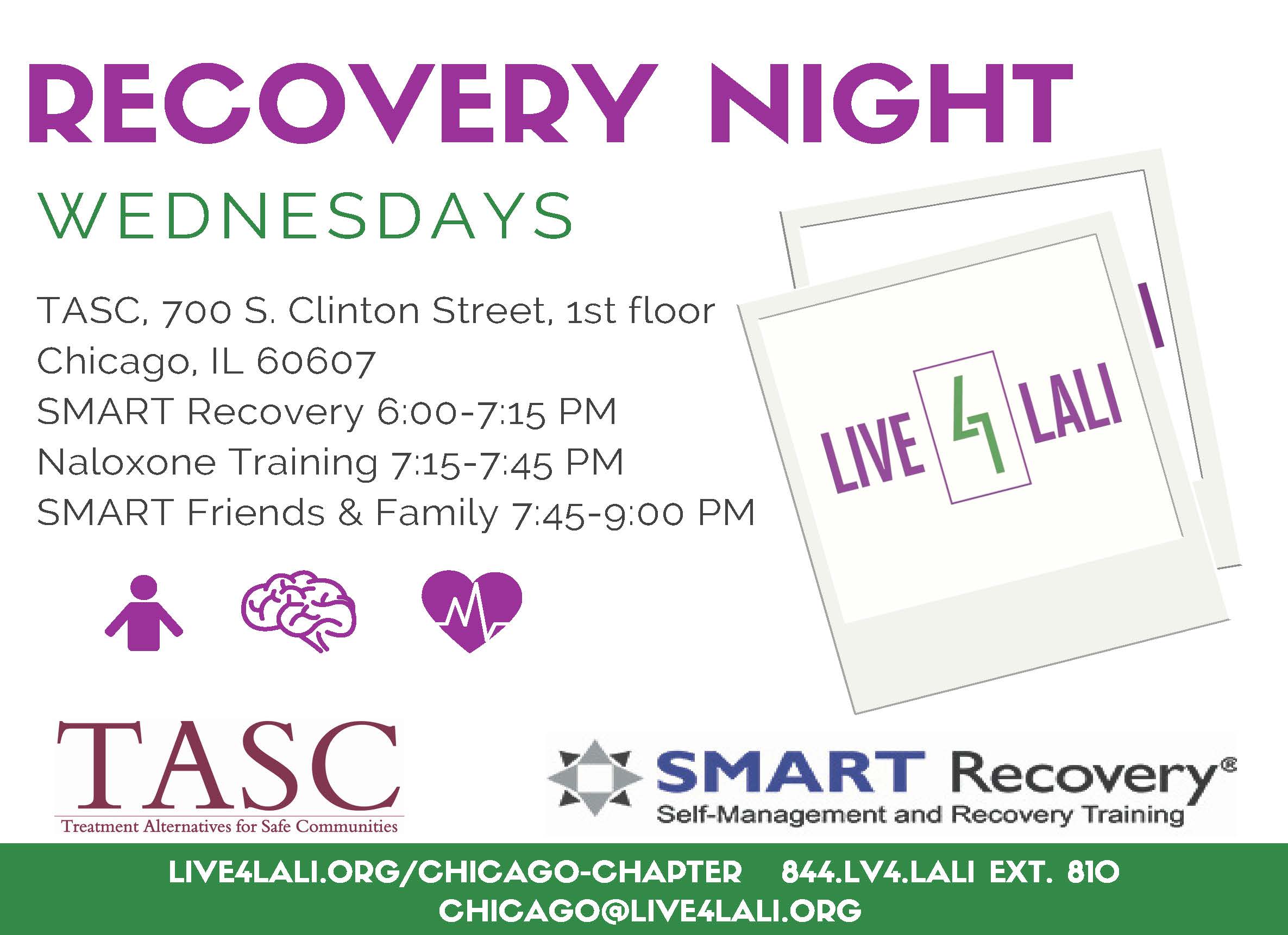 Categorised in: Uncategorized
This post was written by live4lali