Harm Reduction Outreach 
In an effort to reduce overdose deaths, HIV and Hepatitis C transmissions, illnesses associated with substance use, and barriers to treatment, Live4Lali invites drug users, individuals in recovery from substance use disorder and their loved ones/friends to access harm reduction education and supplies at our Community Resource Center (CRC) (3255 N. Arlington Heights Rd, Ste 508, Arlington Heights, IL) or the Lake County Health Department.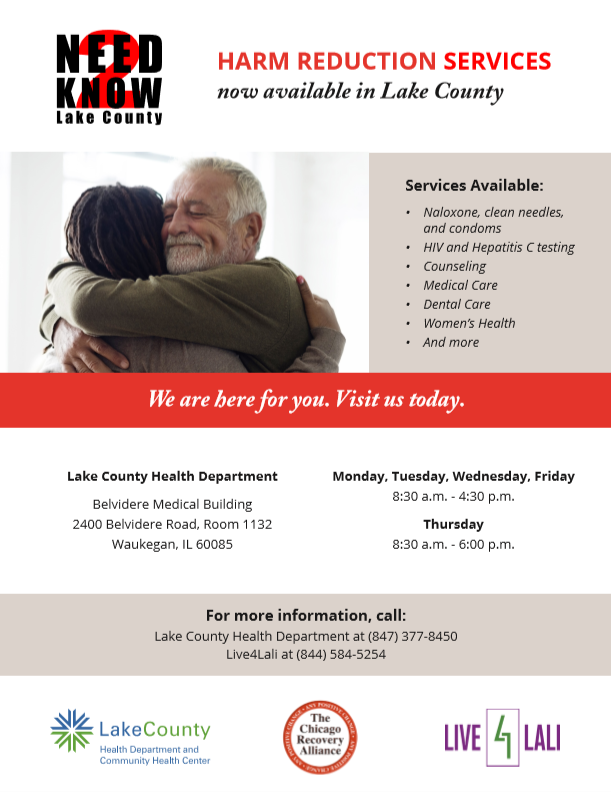 What are the general goals of harm reduction? 
Reduce the spread of infections such as HIV & Hep C
Reduce risky drug use
Prevent drug overdose deaths
Provide honest drug education
Increase user's' contact with services and treatment
What is the data telling us?  
In 2016, 1,888 people in Illinois died from opioid-related overdoses. This figure is more than twice the rate of car crash fatalities and 1.5 times the number of homicidal deaths. (Illinois Department of Public Health/IDPH)
In the United States, overdose death is the leading cause of fatality for people under the age of 50.
In 2015, an estimated 1,472 adults and adolescents were diagnosed with HIV in Illinois. Illinois ranked 6th among the 50 states in the number of HIV diagnoses in 2015. It is expected that this data will increase significantly without additional strategic and aggressive public health interventions. (Centers for Disease Control & Prevention)
In 2015, IDPH reported a 200% increase in Hepatitis C prevalence among 15-29-year-olds, and a rate of 38 HIV disease diagnoses per every 100,00 people with 42% of new cases affecting people under age 30.
According to Roosevelt University's Illinois Consortium on Drug Policy, the Chicago Metropolitan Area ranks highest for both emergency department mentions for heroin and number of individuals who were arrested and tested positive for heroin. The state of Illinois is the 3rd worst state in the country for funding treatment for opioid use disorder.
What types of harm reduction strategies is Live4Lali promoting? 
Medication-assisted treatment (MAT)
Needle and syringe exchange/access
Overdose reversal kits (Naloxone/Narcan)
Fentanyl test strips
Information distribution
Peer outreach
Drug policy reform
Safe consumption facilities
For information about accessing Live4Lali's harm reduction services contact Laura Fry at [email protected] or 844.LV4.LALI (584.5254) x803.