COVID-19 UPDATE
*Updated July 3, 2020
The Stigma Crusher is up and running! Beginning June 18th we will be at the following locations weekly:

Wednesdays from 1-4 PM – AJM Auto Body, 926 Front St, McHenry
Thursdays from 1-4 PM – 10th and Mcalister, Waukegan
**Look for the big purple truck! We will ask participants to line up six feet apart, and masks will be distributed to those without one. Supplies offered include toiletries, bottled water, non-perishable food items, masks, hand sanitizer, bags, safe sex supplies, and safe using supplies. We'll collect and safely dispose of any used equipment.
Professional and group harm reduction/NARCAN training will continue virtually. Supplies can be ordered and delivered to you directly.
Harm reduction education and supply distribution for individuals and families can take place in-person at our office in Arlington Heights or virtually via GoToMeeting. If in-person, participants will have their temperature taken at the door and must wear a mask. If you do not have a mask, we can provide one for you. If your temperature if over 100 degrees, we will need to reschedule or switch to a virtual format.
Supply delivery is available to anyone in northern Illinois. We can mail out supplies to anyone outside of that area across the U.S. We will do our best to connect you with your local harm reduction outreach agency.
Reach out to Laura Fry to access any of the services mentioned above at 224-297-4393 or [email protected]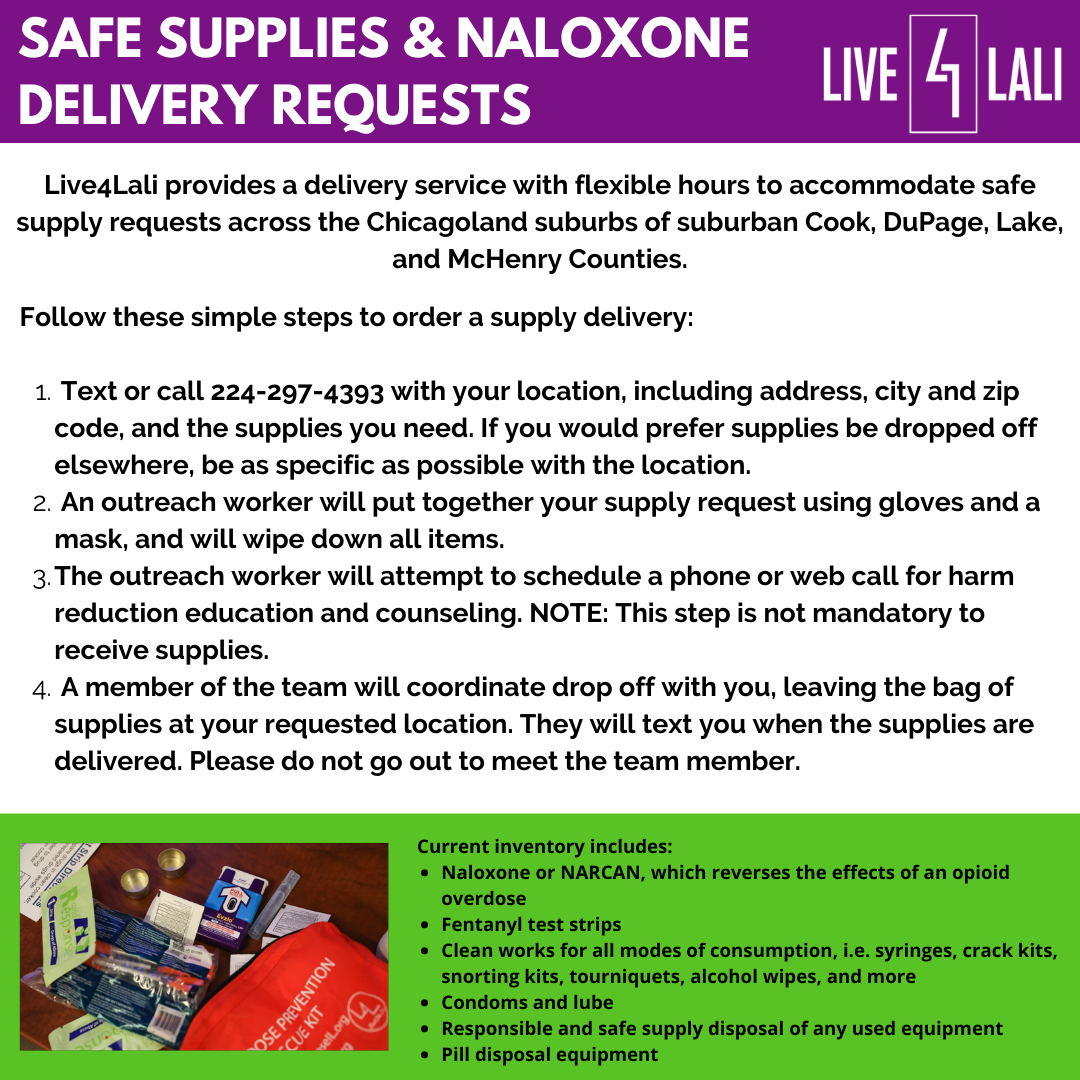 What is Harm Reduction?
What are the general goals of harm reduction? 
Reduce the spread of infections such as HIV & Hep C
Reduce risky drug use
Prevent drug overdose deaths
Provide honest drug education
Increase user's' contact with services and treatment
What is the data telling us?  
In 2018, 2,167 people in Illinois died from opioid-related overdoses. This figure is more than twice the rate of car crash fatalities and 1.5 times the number of homicidal deaths. (Illinois Department of Public Health/IDPH)
In the United States, overdose death is the leading cause of fatality for people under the age of 50.
In 2017, 1,375 adults and adolescents were diagnosed with HIV in Illinois. Illinois ranked 8th among the 50 states in the number of HIV diagnoses in 2015. (Centers for Disease Control & Prevention)
In 2015, IDPH reported a 200% increase in Hepatitis C prevalence among 15-29-year-olds, and a rate of 38 HIV disease diagnoses per every 100,00 people with 42% of new cases affecting people under age 30.
According to Roosevelt University's Illinois Consortium on Drug Policy, the Chicago Metropolitan Area ranks highest for both emergency department mentions for heroin and the number of individuals who were arrested and tested positive for heroin. The state of Illinois is the 3rd worst state in the country for funding treatment for opioid use disorder.
What types of harm reduction strategies is Live4Lali promoting? 
Connection, compassion, hope, healing, and shame-free approaches to engage with participants
Linkage to substance use treatment and recovery support services, and other ancillary supports such as housing, employment, and legal services
Toiletries, clothing, food, and other basic needs
Medication-assisted treatment (MAT)
Needle and syringe exchange/access
Overdose reversal kits (Naloxone/Narcan)
Fentanyl test strips
Information distribution
Peer outreach
Drug policy reform
Safe consumption facilities
For information about accessing Live4Lali's harm reduction services contact Laura Fry, Chief Programs Officer, at Laura@Live4Lali.org or 844.LV4.LALI (584.5254) x803.