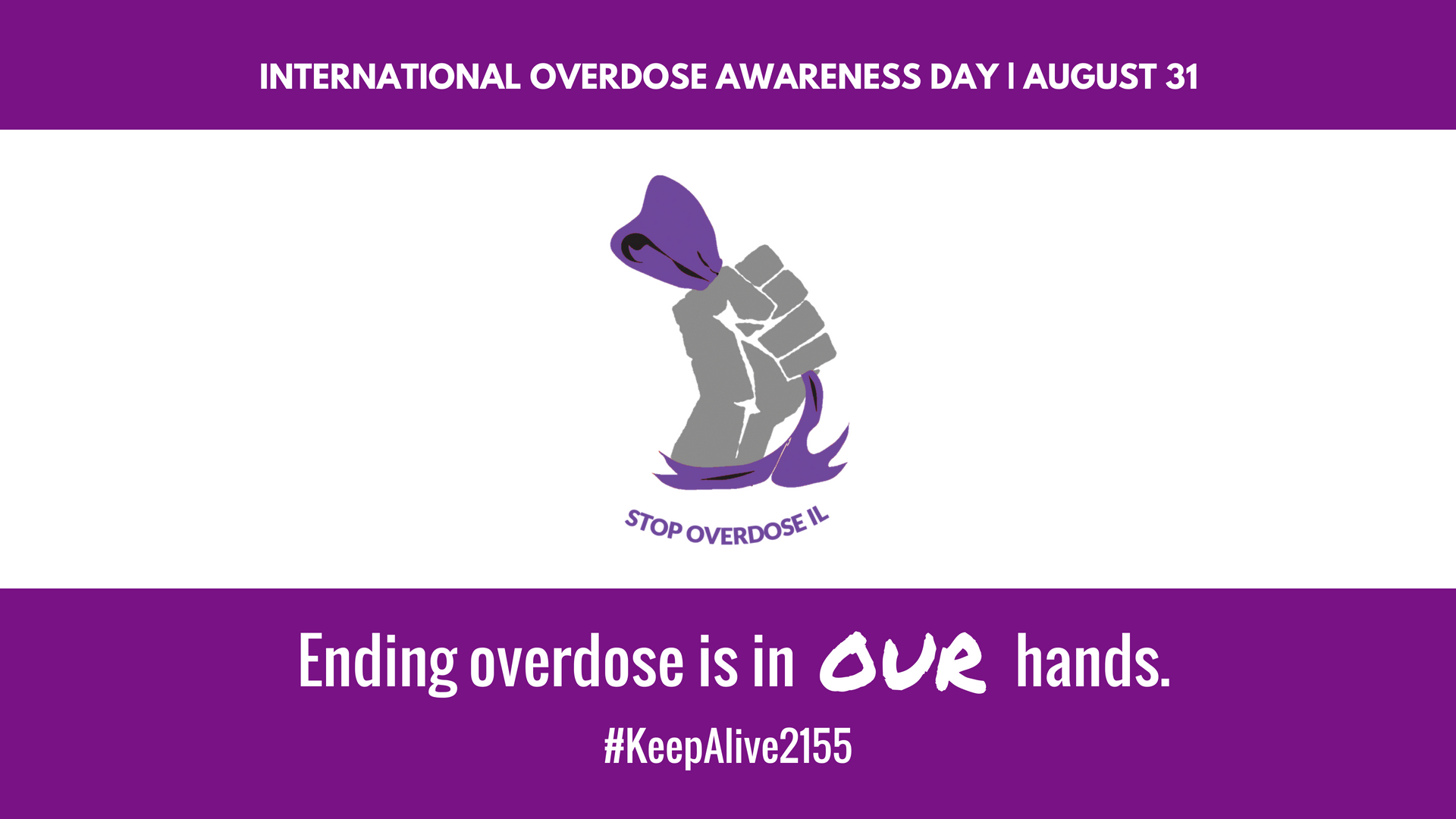 International Overdose Awareness Day 2018 | August 31, 2018
ENDING OVERDOSE IS IN OUR HANDS
#KeepAlive2155 #endoverdose
Illinois has one of the worst overdose deaths rates in the country. In 2016, 1,889 Illinois residents died from an accidental drug overdose. For these numbers to go down, awareness, action, and access are critical.
International Overdose Awareness Day has been a key remembrance event for those who have died from fatal drug overdoses since 2001. On August 31, thousands of people worldwide will stand beside the friends and families of fatal overdose victims to reflect on their losses. The event intends to reinforce the idea that no one need feel shame or disgrace at the death of someone from drug overdose.
International Overdose Awareness Day also presents an opportunity to help the wider community understand that drug overdose is a social issue and no one is immune to drug harms.
The number of fatalities from drug overdose deaths is growing and August 31 is a chance to inform about risky drug use and lifesaving drug overdose prevention supplies, such as Narcan or naloxone, the overdose reversal medication.
What are we doing about it?
From August 27-31, 2018, advocates from across Illinois will band together to train 2,155 people in overdose prevention and reversal strategies and equip people who need naloxone with a free kit. Why 2,155? The Illinois Department of Public Health projects that 2,155 Illinois residents will die from an accidental overdose in 2018.
Advocacy groups will host local candlelight vigils and remembrance events on August 31, 2018 to:
Remember those we have lost to overdose
Raise awareness about the addiction and overdose crisis
Meet others who have been affected by the Illinois overdose crisis
Work to provide effective lifesaving solutions like naloxone distribution
Ask county stakeholders to pursue overdose prevention strategies in EVERY community across Illinois
Who should participate?
Anyone directly impacted by substance misuse, addiction and overdose
People who use substances or are in recovery from a substance use disorder
Patient advocacy groups
Treatment providers
Faith-based communities
Students
First responders
Health care providers
Teachers
School counselors
Social workers and counselors
Physicians and other prescribers
Prevention advocates
Health educators
Elected officials
School staff
Public health professionals
Public safety professionals
Community members
How can you participate in #KeepAlive2155?
Contact Artemis Golzar at

[email protected]

or 844.584.5254 x808 to receive your IOAD 2018 toolkit and discuss naloxone/overdose prevention training needs. From hosting trainings to launching your candlelight vigil or remembrance event, it's all in there!
Like "Stop Overdose IL" on Facebook for regular updates and to get information or feedback on launching your local campaign
Visit our International Overdose Awareness Day Google Drive for more information, ideas, social media graphics, and more!
How can you become a sponsor?
Contact Jody Daitchman at [email protected]
Events:
8/28: IOAD at Oakton Community College: FREE Naloxone Training – 10 – 12pm
8/28: IOAD at Oakton Community College – 12 – 4pm
8/30: Overdose Education & Naloxone Training Distribution at Park Ridge – Multiple times; please RSVP
8/31: IOAD Candlelight Vigil at Lake Arlington – 5:30 – 7:30pm