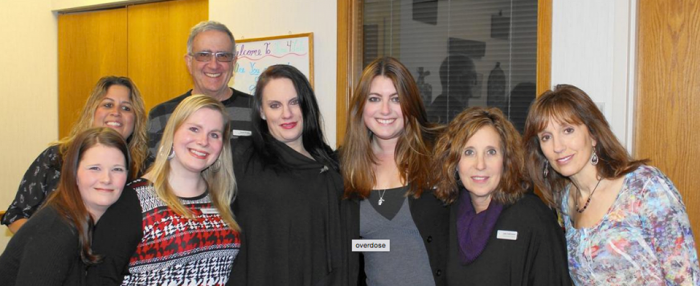 The Live4Lali family is ever-growing. We are proud to be an advocacy community that is evolving with the needs and growth of the movement. Our volunteers, representatives, educators, Board of Directors and staff come from a variety of backgrounds and motivations attributing to their involvement.
What is a Live4Lali Ambassador?
Ambassadors represent Live4Lali's mission  to reduce stigma and prevent substance use disorder among individuals, families, and communities, and minimize the overall health, legal and social harms associated with substance use.
What does a Live4Lali Ambassador do?
Outreach – Bringing our mission and vision to your community and the community at large.
Distributing marketing materials, brochures, flyers, program announcements, to area businesses, organizations, schools, etc.
Distribute and educate on services we offer:

Opioid overdose and naloxone education
Professional Trainings
Peer Support Groups (SMART, Refuge, Family & Friends)
Other services we offer – treatment navigation, Peer Recovery Coaching, Recovery Café events

Running events and resource tables, which includes researching events in your area that might benefit our M&V. Some examples are:

Health Fairs
Business Expos
National Night Out
School Orientation Night
Community Forums

Attending educational forums and panels
Advocating at the state and federal levels
Fundraising – As members of the Live4Lali team, we all fundraise. Being a grassroots community organization, every little bit helps.
Working a shift at a fundraiser
Serving on a fundraiser event committee
Bringing ideas and creating new fundraisers
Researching funding opportunities in your community. Some examples of this include:

Rotary Club
Lions Club
Township Grants
Family Foundations
Community Recovery Center (CRC) – Support at the HQ and in the Community.
Data Entry
Supply Inventory
General Office Duties

Cleaning
Organizing
Sprucing/Decorating

Creating and organizing Recovery Café events
Facilitating other types of support groups – bring us your ideas!
Assisting with current peer support groups – SMART, Refuge
Obtain SMART Recovery Facilitator Certification
Provide support for partner organizations – Some examples include: Connect2Recovery, McHenry County Substance Abuse Coalition, Lake County Opioid Initiative, Arlington Heights CARE Program
Whether you are a directly or indirectly impacted individual or a concerned citizen, the best time to get involved is whenever YOU are ready. When the time is right, please fill out the form below and a team member will reach out to you.